Transport and storage of liquid hydrocarbons
Société du Pipeline Sud Européen (SPSE) is a company which transports liquid hydrocarbons by pipeline from the Fos-sur-Mer and Lavéra port facilities (South of France).
It is also a storage company, operating a tank farm of 2.26 million m³ of capacity, located at Fos-sur-Mer. Initially almost exclusively dedicated to crude oil storage, SPSE has now expanded its business to naphtha and diesel storage.
History
In 1958, sixteen oil companies belonging to the major world oil groups founded the Société du Pipeline Sud-Européen (SPSE).
In 1962, a large diameter pipeline (34 inches/86 cm) was commissioned between the Mediterranean sea and the upper Rhine region.
In 1971 et 1972, two other pipelines were commissioned.
These three pipelines have been declared of general interest and authorized by a decree classifying these infrastructures of public interest.
The tank farm is an Installation Classified for the Protection of the Environment, Seveso III upper tier site.
Our network
Ship unloading operations at the ports of Fos-sur-Mer and Lavéra are carried out by Fluxel, the company managing port handling facilities. These facilities are connected to SPSE tank farm, at Fos-sur-Mer, which includes 40 above-ground tanks for a total storage capacity of 2.26 million m³. The stored products are crude oil, naphtha and diesel.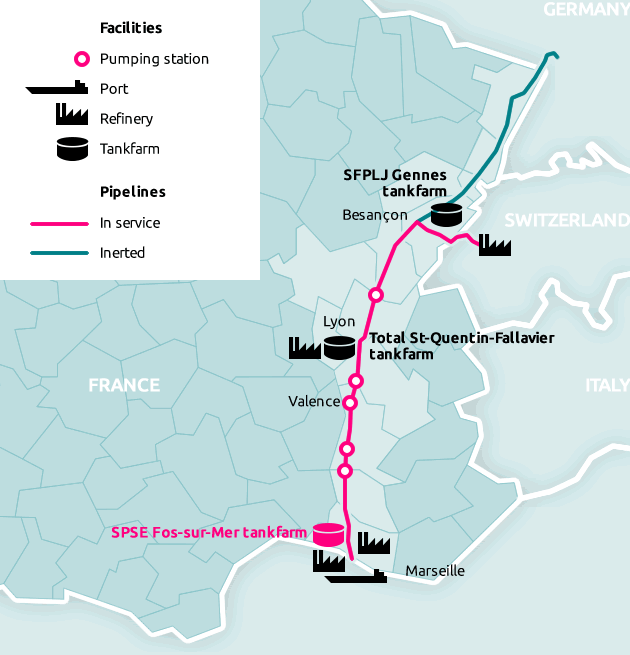 Out of the three existing pipelines, only the 34 inches one is currently operated. This pipeline connects the Fos-sur-Mer tank farm to the St-Quentin-Fallavier (69) and Gennes (25) tank farms, supplying in crude oil the refineries of Feyzin (Rhône area) and Cressier (Switzerland).
Five pumping stations ensure the transport and delivery of 8 million tonnes of crude oil every year.
Diesel storage facilities are connected to the refined products network owned by third parties, for the supply of storage and distribution points in the Etang de Berre area.
These last years, SPSE succeeded in adapting its infrastructures to the quick development of the logistics network in the south of France , and is now capable to respond with accuracy and efficiency to the storage needs in the Mediterranean area.
Management Committee
Fabien Poure
Chief Executive Officer
Laure Carougeau
Chief Human Resources Officer
Danilo Baldassarre
Chief Operations Officer
Jean-Marc Latino
Chief Financial Officer

Leadership Team
Patrick de Bourayne
Head of Industrial Risks Division
Pierre Schmider
Development Manager