A wide transport network
Diagram of crude, naphtha and diesel pipelines (SPSE and thirds parties) to and from SPSE: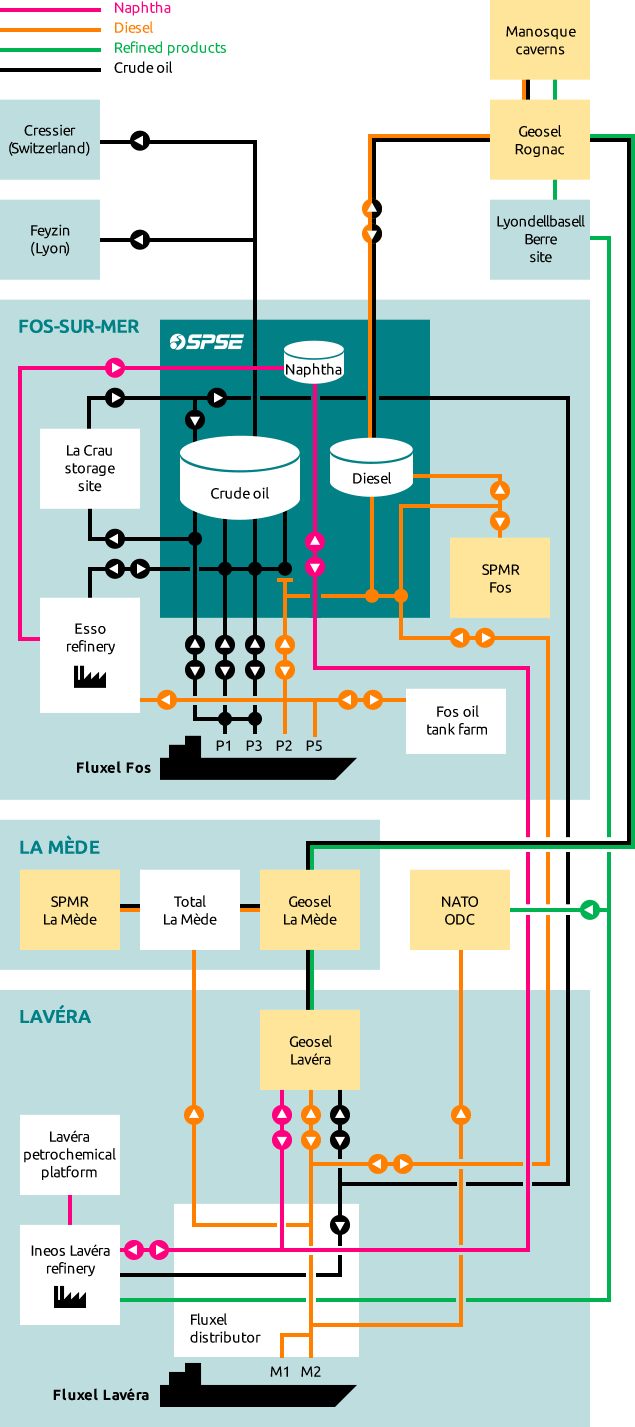 Specific operations
Programs for ships reception and product line dispatch are defined according to customers' needs, storage possibilities, capacity and availability of the pipeline. They are defined in advance for the 6 coming weeks.
These programs are constantly optimized to perfectly synchronize ship unloading operations and our customers' needs for products.
Transport is operated by 18,000 to 40,000 m³ product "batches" of different qualities.
The batches dispatch order is continuously adjusted by the program team in order to comply with the dates requested by refineries for each delivery while minimizing contamination between the different transported products qualities.
The 34 inches diameter pipeline transports products at a throughput of up to 2,600 m³/hour.
Two delivery terminals
SPSE dispatches products to two delivery terminals located in Lyon and Besançon.
The Lyon terminal supplies Feyzin refinery owned by the TOTAL group and the Besançon terminal supplies the Jura pipeline tank farm connected to Cressier refinery in Switzerland, owned by the Swiss company Varo.
Storage
Located in the immediate vicinity of Fluxel port facilities in Fos-sur-Mer, SPSE tank farm offers a storage capacity of 2.26 million m³, i.e. more than 2 billion litres or more than 14 million barrels, in 40 tanks:

Crude oil tanker (up to 400,000 tons) unloading operations are carried out by the port facilities at the rate of 15,000 m³ per hour (95,000 barrels per hour). Diesel tankers (up to 120,000 tons) are unloaded at a rate of up to 7,000 m3 per hour (44,000 barrels per hour).
Concerned with meeting the needs of the supply chain, SPSE is able to offer its customers large storage capacities for periods ranging from a few days to several years.